PRINTMAKING
Holch's limited edition and open edition prints use old printmaking production techniques that were first developed in the early 1900's and later popularized by the Pop Art movement of the 1960's, but rarely used today. Their distinctive look is achieved by layering numerous colors individually onto heavyweight paper to create a final, single image.
Holch uses a special Exacto© knife to hand-cut each Ulano© amberlith stencil for each color, a tedious process that requires skill and patience. Special effects can also be achieved by painting, sponging and scraping the stencils, or by mixing colors and creating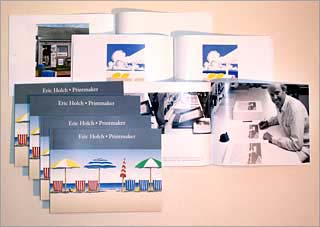 "blends". This can be seen in the prints "Morning Breeze", "Flag Day", "Summer Shadows", "Race Day" and "Windward Leg". Oil based paints, archival inks and 100% cotton rag paper are used exclusively by Holch to create an original print that is extremely durable, resistant to fading, and long-lasting. "Summer Solstice" was his first print completed in 1976.
A nice little soft cover book explaining Eric Holch's printmaking process is now available for $25 plus $8 shipping. It features b&w photos that illustrate the step-by-step production techniques, color photos that take the viewer through a nine-color production of the miniature print "Summer", and over 20 color pages illustrating the various periods of Holch's 30 year printmaking career. The 8" x 6" book has 45 pages with 63 photos and is a nice addition to any Eric Holch collection! Larger hardcover version is $65 plus $8 s/h.
"Eric Holch • Printmaker" is Currently Out of Print
See how Eric produces his prints:
Having trouble viewing the video? Watch on YouTube!