This section is updated periodically as new prints, posters, ties, or other products are available from the Eric Holch Gallery. When revisiting this site, come here first to see what's new!
Bigger homes have bigger walls! Beach homes need pictures of the beach! "Beachside II" measure 70"x 20". This print is perfect for hallways, behind couches, dining rooms. Framed in white with plexiglass to keep it lighter and safer.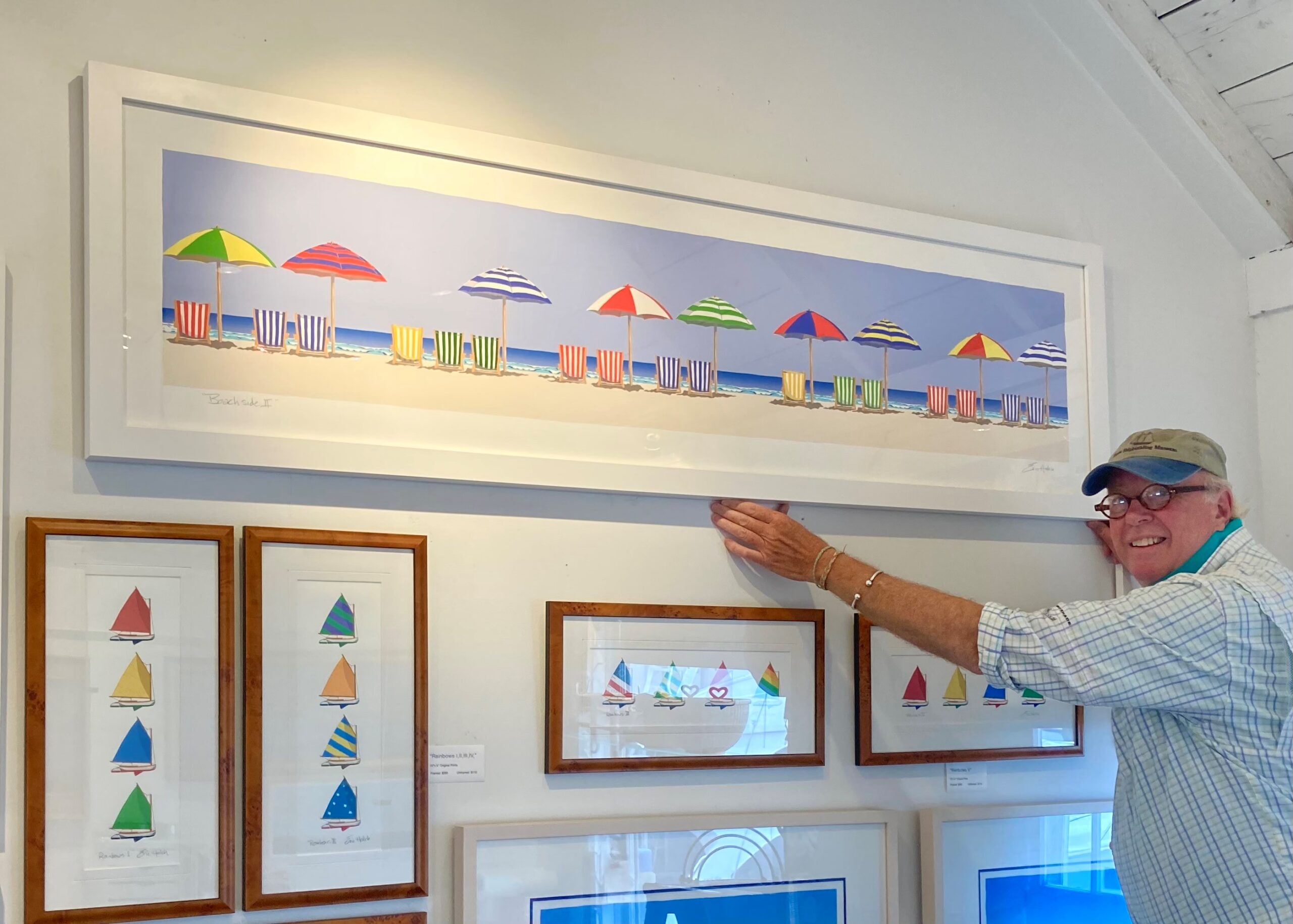 For 2020, Holch and Gilson (www.gilsonsnow.com) have teamed up to produce a line a Nantucket-centric snowboards and skis! Gilson is the fastest growing American snowboard and ski manufacturing company. All skis and boards and made in America to the highest quality and variety of rides: All Mountain, Freeride, Freestyle and Powder. Something great for every Nantucket Proud rider or skier.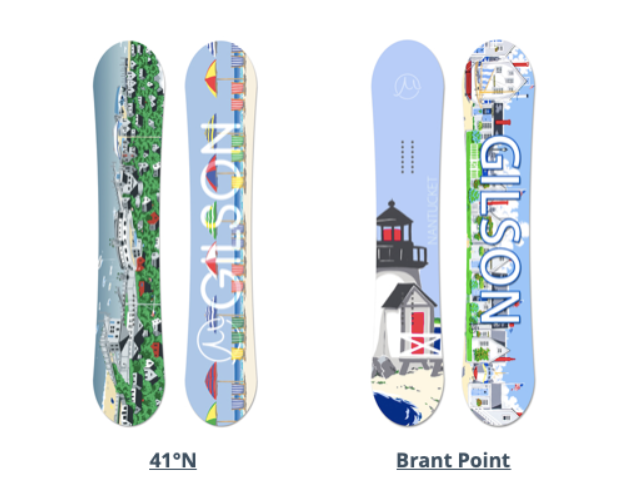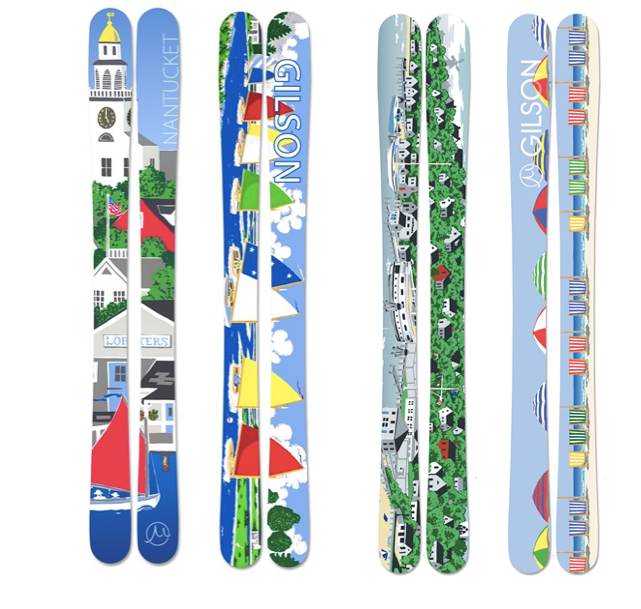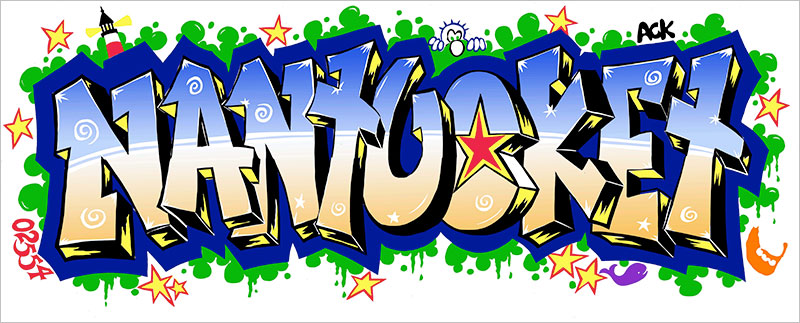 Holch has always been a huge fan of all sorts of pop lettering, calligraphy and graffiti, probably going back years when he designed logos for clients in the advertising business, and before that to his early days in grade school. Back then everyone used to cover their new text books with brown paper – and then doodle and draw on them all year long during class. Holch's doodling never stopped and turned into a lifetime career of creating art.
The love of calligraphy and lettering styles is the essence of good graffiti. Fun, loose, colorful and irreverent. Starting in the 1970s, the "golden age of vandalism" is when kids in New York would lay down simple "tags" on subway cars and buildings. Taki 183 and Dondi could do magical things with cans of Krylon® spray paint, and led to acceptance of graffiti artists like Keith Haring, Lady Pink, Basquiat and Banksy. All their work now sells for millions of dollars in prestigious galleries and is exhibited in major museums.
For years Holch has wanted to do something with graffiti. Something entirely incongruous – a Nantucket tag in graffiti. His neighbors new 6' x 60' white fence finally inspired him to do it on paper as a print, rather than on the new fence. It's fun, contemporary and loose, and uses Holch's usual colorful palette of sky blue, sand, grass green, ocean blue, flag red – but in a totally new and unexpected way. In the gallery, the large version of "Graffiti" is on heavyweight, cotton rag paper with the edges are hand torn as if peeled off a wall. Shadowbox framing measures 4 feet wide by approx. 26" high. Call Eric for Pricing. A smaller version is available, too. Order the smaller version >
2018 marks my 40th year on Old South Wharf! In 1978 George Davis wanted to start a cooperative art gallery in the old granary building on the wharf. It was the former location of the Munson Gallery, an old (1860) gallery based in New Haven CT. I had been with Reggie Levine at the Main Street Gallery. Back then there was a lively gallery scene with the Lobster Pot Gallery, Main Street Gallery, Harbor Gallery and Kenneth Taylor Gallery (AAN) – that I remember.
The new gallery was to be called The Granary Gallery and it featured George Davis's silkscreen prints and paintings, Bruce Dilts's trompe l'oell paintings and prints, Cynthia Lyman's sculpture, Sybil Goldsmith's oil paintings and my silkscreen prints. Kathy Hay (now a well-known decorator) manned the gallery with George and the gallery was off and running! My work was there for 15 years and during that time Davis expanded and opened up the Morning Glory Cafe with the gallery – and Dilts did the wonderful trompe l'oell in the cafe. And we all remember the Morning Glory muffins!!
When The Granary Gallery closed I moved to the Sun Gallery, run by Ann Shaw. Then, tired of jumping galleries on the wharf, opened the Holch Gallery in 1993 at 22A and later #10 Old South Wharf. My work is now in the Brown Basket Gallery at #9 Old South Wharf.
It's been a blast, and an honor, being on Old South Wharf all these years. Some great artist's and friends have had galleries there. Perrin, Don Russell, Teryl Townsend Speers, Barbara Van Winklen, Kerry Hallam, James Cromarte, Tom Mielko and, of course, Mary Beth Splaine's Old South Wharf Gallery.
I did a print at the time called "Morning Glory Cafe". The wharf hasn't changed that much – just new stores and galleries that keep its energy alive.