IN THE NEWS
Article from Cape Cod VacationRentals.com,
October 5, 2021.

9 Best Art Galleries on Nantucket -Must Visit!

ByJen Robertson - Cape Cod Vacation Rentals

Eric Holch, internationally recognized artist and printmaker, based on Nantucket Island, creates limited edition serigraph prints, posters and his signature line of nautically-inspired silk neckties.

READ ENTIRE ARTICLE
(article will open in a new window)
Article from Inquirer & Mirror,
August 4, 2016. Photos by Nicole Harnishfeger.

Eric Holch's timeless prints brighten the wharf

By Dean Geddes - dgeddes@inkym.com

For more than 30 years the iconic serigraph prints of Eric Holch have captured the timeless beauty of Nantucket, evoking memories of summer afternoons at the beach and breathtaking sunsets over the harbor.

READ ENTIRE ARTICLE
(article will open in a new window)
---
Article from Yankee Magazine,
May/June 2016 issue. Photos by Cary Hazlegrove.

The Vibrant Landscapes of
ERIC HOLCH

Nantucket's best known printmaker captures a world of eternal summer. by Annie Graves

Nantucket Weather catapults across the 30-mile stretch of water off Hyannis and changes as abrubtly as a teenager's mood. High winds can ground the ferry - as it has the first time I attempted to visit printmaker Eric Holch..."We make it an event when we get stranded in Hyannis and the ferry doesn't run," says Holch when he meets me at the landing. We stroll next door to the Old South Wharf where he points out five different galleries that have featured his work since 1978...
---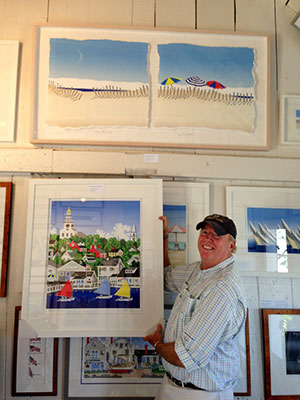 Article in The Inquirer and Mirror, Nantucket, Mass.
, Thursday, August 14, 2014. Photo by Nicole Harnishfeger.
Printmaker Holch inspired by island's timeless beauty
Artist Eric Holch has been coming to Nantucket since he was a child, constantly drawn back by the water, the boats, and how the island has seemingly stood still through time as the world around it evolves.
His gallery at 10 Old South Wharf features stylized snapshots of Nantucket in the summer, just as it has looked for decades: the view of town from the water, Brant Point Lighthouse, and the beach dotted with beach umbrellas. Holch has been creating original serigraph prints for 35 years, and has never run out of ideas, as the island serves as his inspiration.
"You just drive around the island, go to the beach, do whatever it is you do, and something just grabs you . . . something pops into view and you say 'Wow, that's cool'," Holch said.
Holch's prints are bold, with strong colors, crisp lines and new this year are some three-dimensional prints that make the image pop.
"I use a few prints to do it, I cut it out and put it on top of another print . . . the 3-D paintings are for people who want a one-of-a-kind piece of art. It's a fun project," Holch said.
One 3-D print features a boat in the harbor that comes to life layered over the water, followed by the buildings in the background, then the horizon layered underneath, adding depth to the piece.
He began printmaking as a boy in the mid-1970s, when there were a dozen other printmakers on the island. Now, he is one of the only artists who still uses the technique, giving his art a unique and recognizable style.
He decided to focus on art full-time after giving up his corporate job in advertising, but initially feared he would run out of ideas. "I sat in my mom's house . . . and spent the whole day sketching," Holch said. "Every time I was dry out of ideas I would go back to that sketchbook," as he still does to this day.
The art of printmaking is a very technical process that uses special oil-based paints and fade-resistant inks. Using hand-cut-stencil techniques, an image requires a different fill for each color used. Due to the precision and time required, one large print can take up to four months to finish, Holch said.
Once a print is cut there is no blending, adding or changing. Where a mistake in an oil painting can be smudged and altered, all printmaking work is clean-cut and permanent.
Most of Holch's work is done in the winter, after he's had time to reflect on the photographs he took during the summer and his gallery is closed for the season except by appointment only.
Though most of Holch's prints are of contemporary Nantucket, the way it looks to him as he wanders around the island, he also pays homage to its history. One print is of a whale's tail poised above the water's surface, with the word "Nantucket" splashed across the top of the print in white lettering.
"I wanted to do something with a historic feel that brought people back to the essence of what Nantucket used to be all about," he said. A couple prints hanging in Holch's gallery this week showed traditional scenes of sailors, first in a whaling boat seeking their prey, then about to harpoon the animal like a scene from Herman Melville's "Moby-Dick."
A sailor himself, Holch also created the Nantucket Race Week logo, a scene of colorful sailboats racing to the finish line. Holch has sailed previously in the Opera House Cup, and enjoys spending time aboard his boat.
Also new this year is a vertical painting of freshwater lures, inspired by the print he created last year featuring saltwater plugs. He came up with the idea while putting away his own plugs after a fishing trip.
Holch only makes a few new prints each year, and keeps printing the classics as well. As for his distinct style: "I couldn't change if I wanted to," he said.
---
Article in The Boston Globe June 22, 2013 Travel Section by By Patricia Harris and David Lyon
Touring the galleries of Nantucket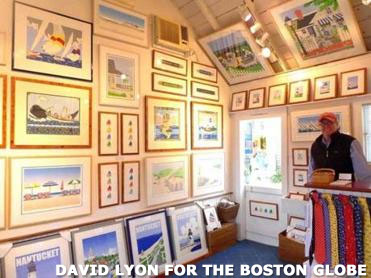 NANTUCKET — "Art by a Native" reads the sign at the door of Michetti Art, the gallery that Paul and Mary Michetti opened this spring in one of the former shucking shacks on Old South Wharf. The gallery displays Paul's artwork and he is indeed a native Nantucketer. He doesn't have Mary's pedigree (she can trace her lineage to the first English settlers), but Paul knows the island like the back of his hand. A skilled finish carpenter and self-taught artist, he's also an avid fisherman and archery hunter. In winter, the couple searches for antlers shed by the island's small deer. Their finds march along the upper edge of the gallery walls, a perfect complement to Paul's images of Nantucket wildlife.

It turns out that work by local artists (though not necessarily natives — a distinction that matters on Nantucket) is pretty easy to find. "We have about 125 active artist members and another 70 or so who are inactive," says painter Robert Frazier, curator of exhibitions at the Artists Association of Nantucket. "When the association started in 1945, the core of artists only lived here in the summer," he says, "but that has changed toward more artists living here year-round."
Frazier likens the island to such famous art colonies as Woodstock, N.Y., and Ogunquit, Maine. "Nantucket has been an art colony since the 1920s," he says, noting that it takes more than "a beautiful, inspiring locale" to create a strong artists' community. The scene began to coalesce when patrons made affordable studio space available. About the same time, Frank Swift Chase (1886-1958) began to teach landscape-painting classes and drew other artists into his orbit.
The Artists Association's permanent collection includes about 1,200 works from the early art colony days to the present. An exhibit of selected pieces runs June 28 to July 28 at the Maria Mitchell building at 33 Washington St.. In addition, the association mounts changing exhibitions of members' work at its Joyce & Seward Johnson Gallery. For the June 29-30 Plein Air Nantucket painting festival, at least 15 artists will set up their easels and paint in a location yet to be revealed. The resulting works will be for sale at the end of the weekend. "I love painting plein air," says Frazier. "Even when I paint in my studio in winter, I paint in plein air speed — sloppy and Impressionistic."

The association was founded to nurture local artists but has proven to be an incubator for gallery owners as well. Kathleen Walsh did a stint at the association before opening Old Spouter Gallery 14 years ago. She represents 20 artists, all full- or part-time islanders. Walsh has an eye for contemporary, even abstract, work and a soft spot for folk art wood carvings. She mixes it all up in the airy rooms of the 1756 former Old Spouter Inn, about a mile from the center of Nantucket town. It's a scene worthy of Architectural Digest and a great spot to mingle on Friday gallery nights. "I serve wine and really good cheese," says Walsh.
Robert Foster also worked at the association before launching his eponymous gallery, now in its third summer. He represents 22 Nantucket-based artists. Most live on the island full-time and are his friends. "That's a unique thing about living on an island," he says. "You can't have enemies." Foster has lived on Nantucket for 15 years and has a keen appreciation for its beauty. "It's one of those unique art hubs," he says. "I've heard artists compare the light here to the south of France, especially the lavender light in summer. Everything is a photo or a painting."
But winter isolation also has advantages. "That's when everyone can focus and concentrate on their work," Foster says. He is mounting 11 exhibitions this summer and stays open extra late on Friday nights. "I serve prosecco and really good chocolates," he says. "Everybody ends up here for dessert."
Nantucket may be a little island far out to sea, but its art scene doesn't exist in a vacuum. Some galleries represent national and international artists. Kathleen Knight, who came to Nantucket in 1979, opened her first gallery in 1985. Her Gallery at Four India displays art from the 19th through 21st centuries with an emphasis on academic painters from Boston, Philadelphia, and New York, as well as painters from the Paris Salon. She represents some living artists, including a handful of locals. "I encourage them to join the bigger world, to grow their careers," Knight says.
By contrast, Cavalier Gallery brings regional artists to Nantucket to seek inspiration. "We invite artists who we think will have success with Nantucket subjects," says director Lindsay Ebanks. Cavalier is an offshoot of a Greenwich, Conn., gallery and represents major artists, both living and dead. Inventory on Nantucket is tailored to island interests. "About half is beach scenes and maritime art," says Ebanks. The gallery represents several local artists, including Robert Stark, who is known for his paintings of boats with red sails, and Stephen Pitliuk, who tells inside jokes with graffiti pieces such as "I Sped on Sconset" or "I Saw an Old House on Nantucket."

Whatever their budget and sensibilities, most buyers are looking for work that reminds them of this special place, and many find it on Old South Wharf. Peter Van Dingstee studied with a Japanese master and makes fish prints through the traditional art form of gyotaku. The walls of Pete's Fresh Fish Prints are filled with graceful images of striped bass, fluke, tuna, black sea bass, and other creatures that find their way to Nantucket waters. He often prints for sport fishermen. "It's flat taxidermy," he says, "instead of having a big dust collector on the wall that your wife doesn't like." Van Dingstee uses only nontoxic inks. "When I'm done printing, I can fillet and dine on the fish."

Nick Addeo of adjacent Anchored Artists fishes off the wharf at night. He and Meredith Hanson, both recent studio art graduates, opened the gallery this summer. She is a landscape painter; he's a sculptor who works with wood he finds on the beaches. "This wharf," says Hanson, "is one of the most romantic places with the white lights at night."
The wharf is also a place "where artists can get a toe in the door," says printmaker Eric Holch, dean of the Old South Wharf art scene. "I've been on the wharf since 1978," he says, noting that he opened his first gallery in "the last shucking shack to turn into a retail space." Holch began making limited edition silkscreen prints in 1976 and is a master of the art form. The clean shapes and clear colors capture the stillness of the wharves at dawn or the adrenaline rush of boats under sail with equal verve.
"Nantucket has unbelievable light, especially in the fall," Holch says. "The low sun just explodes the sides of buildings. The white is whiter than white." When Holch left his career in advertising to pursue his art, he worried that he wouldn't have enough material. Now he laughs. "On Nantucket," he says, "you never run out of stuff."
---
From July 12, 2012 article in the 'Inquirer & Mirror' -by Leland Rzepecki
Printmaker Eric Holch's work synonymous with summertime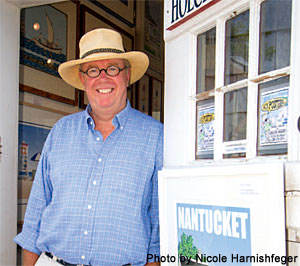 Eric Holch, a Nantucket artist whose work has almost become synonymous with summertime on the island, makes his living by awakening the beauty within people's memories. Holch, inspired by his own memories of Nantucket, has been making fine, detailed prints of island scenes, which have adorned collections of Nantucket-related art worldwide for over 30 years.
Holch's passion for printmaking started at the age of 15 when he was given a print as a gift. He was struck by its sharp, distinctive look and although his early professional life eventually revolved around advertising, he would always retain his interest in art. When Holch started creating his own prints he drew from his memories of summers on Nantucket for inspiration. "(Nantucket is) beautiful," he said. "You can always turn around and find something spectacular."
His work has been displayed in various venues since 1976 during which time it has enjoyed international popularity and recognition from art lovers as far away as Australia and Japan. Holch started displaying his work on Nantucket in 1973 at the Main Street Gallery and later in different galleries on Old South Wharf, alongside the work of other artists. After many years of sporadic exposure at these galleries Holch decided he needed his own space to permanently display his work, and in 1993 converted a scallop-shucking shack on the Nantucket Boat Basin into the first Eric Holch Gallery. The current Eric Holch Gallery on Old South Wharf opened eight years ago and has been a continuing source of success and exposure for Holch and his work.
The current Eric Holch Gallery is home to Holch's array of work including his famous prints in mounted, framed and poster form, nautically-themed silk ties and bowties and framed three-dimensional prints. The prints and posters present various scenes of Nantucket summers in eye-catching color and impressive detail, illustrating Holch's dedication to the delicate printmaking process.
"You don't see as many printmakers as you used to," Holch said. "That makes (these prints) all the more distinctive."
He also pointed out some of his newest work: prints on torn paper which convey a contrast between the sharp and the rough. In addition to the work available at the gallery, Holch also sells value-priced posters at ACKposters.com , including five new designs for 2012.
Holch takes great pleasure is recounting his artistic history and the experience of running an art gallery. He is especially fond of the people he works with and the creative process allowed by running a seasonal business. During this season, which he jokingly calls "summer survival mode," he puts his advertising experience to work running his business while finding inspiration for new prints to work on in the off-season. "There's always something (on Nantucket) to be inspired by," he said. "I couldn't see myself doing anything else."
---
From August 2011 article in the 'Inquirer & Mirror' - by Hana Schuster, I & M Contributing Writer
The Hidden Treasures of Old South Wharf
One of Old South Wharf's longest running galleries, Eric Holch's Holch Gallery, offers customers a unique twist on Nantucket-themed art, thanks to the artist's unique limited-edition silk-screen prints, posters and his signature line of nautically-inspired silk neckties.

Since 1976, when Holch began exhibiting his work at the Main Street Gallery, his prints and oil paintings have been exhibited in over 250 galleries and museums throughout the United States, Bermuda, England, Australia and Japan. His distinctive images have also appeared on everything from magazine covers and cards to ceramics, jigsaw puzzles and boxer shorts.

Holch is one of the few contemporary printmakers whose work was selected for international distribution by the Original Print Collectors Group, Ltd., a leading authority on investing in art.

Growing up in Andover, Mass. and Greenwich, Conn., Holch spent every summer on Nantucket where he developed a passion for sailing and being on the water, both of which play a role in his serigraph prints.

"I've always tried to capture the essence of Nantucket," said Holch, who missed the island while at college and began painting Nantucket's quaint side streets, warm sandy beaches, summer sailing races and unique New England architecture, hoping that the images would transport him back to the island he loved so much. "Painting is a way to feel connected to a place," Holch said. "Painting Nantucket always took me right back there."

Holch began his career as an artist doing oil paintings, but felt that the medium made it difficult to develop a unique style. "With all the talented artists on Nantucket, I wanted people to look at something I've done and immediately know that it's my work," Holch said. "I found that serigraphs (silk-screen prints) afforded me the ability to do that."

"I think now people really recognize these prints as mine. It's a very distinctive look that no one else on Nantucket is doing."

Limited to flat planes of color, Holch must find ways to keep his images simple, while making sure to provide customers with enough color, detail and varied compositions to maintain their interest.

"It's a tricky balance," Holch said of printmaking. "It can get technically very challenging," as a finished print must go through many stages of production, often taking the artist up to four months to complete a single piece.

Holch hand-cuts stencils for each color plane, a tedious process that requires skill and, according to the artist, "lots and lots of patience." Special effects can be achieved by painting, sponging and scraping the stencils, or by mixing colors and creating "blends," which the artist said can be one of the most complicated facets of printmaking.

Holch uses oil-based paints, archival inks and 100 percent cotton rag paper to create original prints that are durable and resistant to fading.

Holch's formal art training began at the Trinity-Pawling School where he won its first annual art award. He continued his studies in art, architecture and art history at Hobart College and, after graduating, won numerous awards in juried art exhibitions throughout New England.

New to the gallery this year are Holch's torn-paper deconstructions, prints that he creates by tearing apart sections of reject prints and reassembling them into a new, entirely unique piece.

According to Holch, his deconstructed prints have been very popular and are almost entirely sold out, though one of them, "Beach Party," still hangs in the gallery.

"The images in my prints are very crisp and I do lots of blue skies and sunny beach scenes, so that creates a really interesting contrast with the torn edges of the deconstructions. I think it's visually very dynamic," he said.

Also new this year, and marking a significant departure from Holch's usual imagery, is a series of folk-art-style whaling themed prints that are reminiscent of some ivory scrimshaw works, seen in "Siren Song," an image of a mermaid perched on a rock in the ocean as a whaling ship passes by, and "Salty Dog," depicting a man and his dog rowing a wooden boat past an enchanting lighthouse.

Holch's posters of various Nantucket scenes have been very popular over the years among Nantucket visitors looking for ways to keep their island memories alive. The posters are available with or without "Nantucket" featured at the top in white block letters.

Also popular are his many stylized beach scenes featuring umbrellas and matching beach chairs. "When you go to the beach, you see coolers and towels and people everywhere," said Holch, who wanted to simplify the beach experience by depicting a day at the shore through only umbrellas and chairs in what he calls his "sorbet colors," light pastel shades that indeed seem more appropriate on an ice cream cone than a canvas

Near and dear to Holch's heart are his sailing prints. An avid sailor himself, Holch completed a series of smaller prints featuring various Beetle Cat sailboats in a rainbow of colors that belong to him and his friends.

Holch said Nantucket is a "never-ending source of inspiration" for him. "It's amazing when ''ve been doing this for over 30 years that I can still be inspired by the same place, that I can always find something new in Nantucket," he said.
---
From July 2010 article in the 'Inquirer & Mirror' - by Lindsay Pykosz, I & M Contributing Writer
In 1976, Eric Holch finished his first print, "Summer Solstice," the work that jump-started his silk-screening and oil-painting career that has now spanned almost 35 years. With works on exhibit throughout the United States, Bermuda, Japan and Australia, Holch said that he still makes it a point to challenge himself while making sure he keeps painting what he enjoys.
"That's the cool thing about art – there are no rules," he said. "Art is personal, you're doing it for yourself. You wouldn't want to paint something or create something that you didn't want to. I always tell myself this and every day I push the boundaries of the medium."
Known for his prints depicting bright, sunny days and colorful sailboats, Holch recently branched out from his norm and created "Race Week," a print of a foggy, gray day during Nantucket Race Week, an island sailing event every August.
"I had done the Race Week logo and after the logo was finished, I was out on my boat and I had a judge with me," said Holch, an avid sailor. "I was taking pictures of the boats going by and the result was the first print that I've made that's of a gray day. That gave me the OK to keep doing something different than what I might necessarily be used to."
Holch's prints are achieved using a process that was developed in the early 1900s. This printmaking technique involves cutting and layering multiple colors onto a heavy paper – a practice that takes a lot of precision and patience.
"I start with sketches and sometimes reference photography and keep tightening it," said Holch. "I switch back and forth from color sketches to black and white sketches and cut films for each color – that's where uniformity comes into play. I then have to figure out the order of the colors to make them overlap."
Holch said that he typically works from light colors to dark – specifically from pale yellows to dark greys – to make sure that the colors don't blend together incorrectly. In some of his prints, such as "Harbor Porch," Holch said that he layered yellow on top of a gray-blue color to give the floor of the porch a two-toned look.
Over the winter, Holch's travels to Gasparilla Island, Fla. produced new additions like "Beach Break" that feature his staple pastel colors. Also new this year is "Grey Lady," a print depicting Nantucket's historic downtown with the harbor in the foreground; and "Reflections," which captures a solo Beetle Cat sailboat resting in the harbor on a quiet fall morning. In addition, Holch has also been working on deconstructions of his pieces which leave him with a different version of the original print.
"I take my old prints that were damaged and pull them apart and put them back together in a different way," he said. "That's a lot of fun for me."
Although deconstruction gives Holch a chance to play with prints he's already completed, he said that he is usually working on new images, often with subjects that may be the same as previous prints.
"Certain things pique my fancy, like umbrellas and beach chairs," he said. "Because there is a lot of prep work and I end up working on something for months, I am usually working on new images."
Although Holch's gallery has moved around a few times, he has been somewhere on Old South Wharf consistently since 1978, a place he feels is relaxed and "more of the way it used to be." For him, Old South Wharf is a place where people can come down and separate themselves from the busy streets of town.
"People here look after each other and the people who visit here realize that," he said. "There was a lady who came in just the other day who has a house here that she comes to during the summer, but never came down to the wharf. She finally came down and was amazed at the quality of what's down here. There's good quality, a lot of variety and it's all good stuff."
The Holch Gallery, located at 10 Old South Wharf, is open daily from 10 a.m.-8 p.m. For more information, visit www.ericholch.com or call (508) 228-7654.
---
From July 2009 article in the 'Inquirer & Mirror' - by Lindsay Pykosz, I & M Contributing Writer
Painter-printmaker Eric Holch making his mark with scenes of summer

Photo by Nicole Harnishfeger
When Eric Holch was younger, his mother, a sculptor and fashion designer, would require every Nantucket house-guest to paint a picture by the time their stay was over. The result was a wall of paintings from a variety of different people with a variety of different styles. Surrounded by art and artists, Holch says, influenced him to pursue a career as a painter and printmaker – a career that has brought him much success and happiness over the past 30 years.
"When I was 15, my father gave me the first in a series of silkscreened posters by Bobby Bushong," said Holch. "When I got out of college, I started silkscreening and the first prints I did were very popular."
While Holch had a job in advertising at the start, in 1985 he decided to quit his job to become a full-time artist. Doing most of his work in the winter, Holch said he has been working on a series that pays homage to Bushong's original posters. Work on this series started in 2000, and Holch said that there are seven total posters so far, with more possibly on the way. "I started working on this series nine years ago as a sort of tribute to Bushong and those posters I got when I was fifteen," Holch said. "While Bushong's prints had 'Nantucket' written on the bottom, mine have it written on the top. Every year, I do one or two new ones."
Another series that Holch has worked on in the past includes a series of umbrellas and beach chairs. This series was the beginning of a new road of experimentation for him. "These prints became more stylized rather than the reality of the real beach scene hodge-podge," said Holch. "There are a lot of what I call 'sorbet' colors and it was the first time I'd ventured into these soft summer colors, and that led me into a whole other direction." One of his works, "Race Week," he described as a "leap of faith" for his audience with it's grey sky and green water, but was very well received. Another, entitled "Sunset Sail," was the most complex piece he's ever worked on. "It was definitely the hardest one I've ever done," said Holch, an avid sailor. "I worked with a color palate that I'm not used to working in. I used a lot more blends than I'm used to and this one required a lot more experimentation."
While Holch has thrived with painting and silkscreening, he says that one never knows what direction the art world will lead you. Over the years, his artwork has been used to create cards, towels, magazine covers, coffee mugs, handbags, T-shirts, neckties, puzzles and even boxer shorts. "In the late 1980s, there was a huge puzzle craze in Japan," said Holch. "The Japanese were publishing jigsaw puzzles using my artwork, and they would come to New York, where I was exhibiting, with pockets full of cash to buy a whole bunch of artwork for licensing. It was really quite funny. But ever since then I've continued to publish jigsaw puzzles in the US and England."
While Holch has jumped from gallery space to gallery space on Old South Wharf over the years, he has not regretted one minute of it. Starting in the late 1970s at the Granary Gallery, where he stayed for 15 years, he moved to the Sun Gallery, then took one of the last "shucking shacks" on Old South Wharf where he stayed for 10 years. He's been in his current space for five years. Holch's work is also shown at Nantucket Looms and The Lion's Paw, among other island locations.
Holch's love for art has taken him on an extensive journey, one that has been very rewarding, he said. His dream of becoming a successful artist has come true, and he said he can't imagine doing anything else. "Print-making is a medium that is so unique," said Holch. "It makes the work that we do so much more recognizable. When I was younger, I told myself that I wanted to do something in art, to leave something behind, to leave something tangible behind. And I've done just that."
---
Photo by Bevin Bixby/Nantucket Inquirer and Mirror
Eric Holch celebrates three decades on Old South Wharf
By Gabriella Burnham
Inquirer & Mirror Staff Writer
2008
When Eric Holch spent summers on Nantucket growing up, gallery openings were like "Great Gatsby" parties, with fabulous patrons dressed in coat and tie, toting their gin and tonics from gallery to gallery around town. Read entire article >>