WHAT'S NEW
This section is updated periodically as new prints, posters, ties, or other products are available from the Eric Holch Gallery. When revisiting this site, come here first to see what's new!
2022
---
Bigger homes have bigger walls! Beach homes need pictures of the beach! "Beachside II" measure 70"x 20". This print is perfect for hallways, behind couches, dining rooms. Framed in white with plexiglass to keep it lighter and safer.
2021
---
In the News! Holch Gallery on Nantucket chosen as one of the top 9 galleries on Nantucket. See article link here: https://www.capecodvacationrentals.com/blog/9-best-art-galleries-on-nantucket-must-visit/

2020
---
For 2020, Holch and Gilson (www.gilsonsnow.com) have teamed up to produce a line a Nantucket-centric snowboards and skis! Gilson is the fastest growing American snowboard and ski manufacturing company. All skis and boards and made in America to the highest quality and variety of rides: All Mountain, Freeride, Freestyle and Powder. Something great for every Nantucket Proud rider or skier.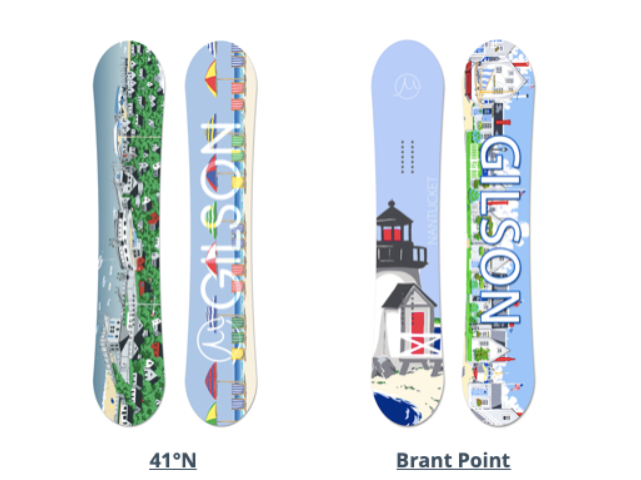 Snowboards at: https://www.gilsonsnow.com/snowboards/limited-edition
And skis at: https://www.gilsonsnow.com/skis/limited-edition
2019
---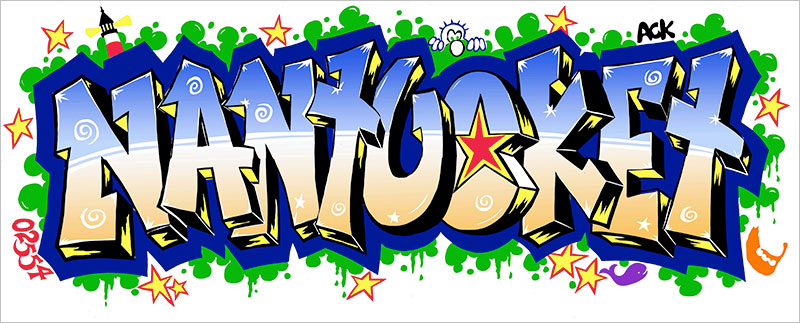 Holch has always been a huge fan of all sorts of pop lettering, calligraphy and graffiti, probably going back years when he designed logos for clients in the advertising business, and before that to his early days in grade school. Back then everyone used to cover their new text books with brown paper - and then doodle and draw on them all year long during class. Holch's doodling never stopped and turned into a lifetime career of creating art.
The love of calligraphy and lettering styles is the essence of good graffiti. Fun, loose, colorful and irreverent. Starting in the 1970s, the "golden age of vandalism" is when kids in New York would lay down simple "tags" on subway cars and buildings. Taki 183 and Dondi could do magical things with cans of Krylon® spray paint, and led to acceptance of graffiti artists like Keith Haring, Lady Pink, Basquiat and Banksy. All their work now sells for millions of dollars in prestigious galleries and is exhibited in major museums.
For years Holch has wanted to do something with graffiti. Something entirely incongruous - a Nantucket tag in graffiti. His neighbors new 6' x 60' white fence finally inspired him to do it on paper as a print, rather than on the new fence. It's fun, contemporary and loose, and uses Holch's usual colorful palette of sky blue, sand, grass green, ocean blue, flag red - but in a totally new and unexpected way. In the gallery, the large version of "Graffiti" is on heavyweight, cotton rag paper with the edges are hand torn as if peeled off a wall. Shadowbox framing measures 4 feet wide by approx. 26" high. Call Eric for Pricing. A smaller version is available, too. Order the smaller version >
2018
---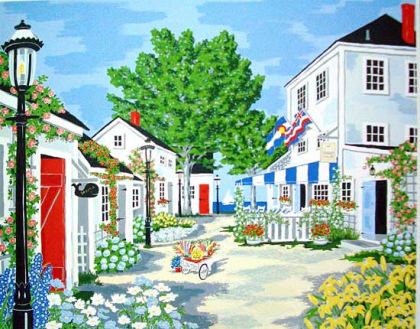 2018 marks my 40th year on Old South Wharf! In 1978 George Davis wanted to start a cooperative art gallery in the old granary building on the wharf. It was the former location of the Munson Gallery, an old (1860) gallery based in New Haven CT. I had been with Reggie Levine at the Main Street Gallery. Back then there was a lively gallery scene with the Lobster Pot Gallery, Main Street Gallery, Harbor Gallery and Kenneth Taylor Gallery (AAN) - that I remember.
The new gallery was to be called The Granary Gallery and it featured George Davis's silkscreen prints and paintings, Bruce Dilts's trompe l'oell paintings and prints, Cynthia Lyman's sculpture, Sybil Goldsmith's oil paintings and my silkscreen prints. Kathy Hay (now a well-known decorator) manned the gallery with George and the gallery was off and running! My work was there for 15 years and during that time Davis expanded and opened up the Morning Glory Cafe with the gallery - and Dilts did the wonderful trompe l'oell in the cafe. And we all remember the Morning Glory muffins!!
When The Granary Gallery closed I moved to the Sun Gallery, run by Ann Shaw. Then, tired of jumping galleries on the wharf, opened the Holch Gallery in 1993 at 22A and later #10 Old South Wharf. My work is now in the Brown Basket Gallery at #9 Old South Wharf.
It's been a blast, and an honor, being on Old South Wharf all these years. Some great artist's and friends have had galleries there. Perrin, Don Russell, Teryl Townsend Speers, Barbara Van Winklen, Kerry Hallam, James Cromarte, Tom Mielko and, of course, Mary Beth Splaine's Old South Wharf Gallery.
I did a print at the time called "Morning Glory Cafe". The wharf hasn't changed that much - just new stores and galleries that keep its energy alive.
New For 2017
---
Oversized Prints

Holch has been working with interior decorators to come up with fun solutions for really large walls, found in so many new homes. With the help of his printer we now offer a series of Oversized Posters.

The photo to the right shows "Closehauled" oversized poster in a home in Connecticut. The framed size measures 4-1/2' tall by 3-1/2' wide. To give you an idea of just how large these posters are, we have placed a regular 24"x 18" poster in front of the Oversized version in the lower right photo.

These posters are custom ordered, with or without NANTUCKET, printed with fade resistant inks on heavy cotton paper and require a few weeks to make. They are signed and titled in pencil, $1,250 each.

Shipping is $35, unframed in tube. (Framing with clear plexiglass is $650 for delivery on Nantucket). Call Eric directly to order: 508-228-7654

The following posters are available Oversized:




---
New for 2016
Big changes for Summer of 2016!!
Holch prints will be available in two places!

On Old South Wharf, Holch's work will now be in Shanty #9 - the Brown Basket Gallery. This is right next door to where the Holch Gallery has been for a dozen years. Look for the window with the prints in it, just like before, but 10 feet to the right! Jerry and his wife Betsy will be exhibiting all my best selling work, prints and posters. They have been in this location for many, many years selling Jerry's Nantucket Baskets, my work will be on the walls. I will still be taking care of all framing and shipping as before. We'll be set up after Memorial Day Weekend (better known locally as Figawi Weekend!). See Jerry's website at: www.glbrownnantucketbaskets.com

The rest of my work can be seen in my new, downstairs gallery space at 5 Pine Street. A home/gallery open by appointment, and just up and off Main Street a couple blocks past Murray's Toggery Shop (see map below). Entrance is down the stairs to the left of the house. This new space will feature additional work not shown on the Wharf as well as many other larger pieces I have never been able to exhibit in the small wharf gallery. I'll also have posters and limited edition prints, framed and unframed, and some notecards will be there also. No ties!

Call my cell, 508-246-7653 for an appointment.

Directions to Holch Gallery
at 5 Pine Street
---
Article from Yankee Magazine,
May/June 2016 issue. Photos by Cary Hazlegrove.

The Vibrant Landscapes of
ERIC HOLCH

Nantucket's best known printmaker captures a world of eternal summer. by Annie Graves

Nantucket Weather catapults across the 30-mile stretch of water off Hyannis and changes as abrubtly as a teenager's mood. High winds can ground the ferry - as it has the first time I attempted to visit printmaker Eric Holch..."We make it an event when we get stranded in Hyannis and the ferry doesn't run," says Holch when he meets me at the landing. We stroll next door to the Old South Wharf where he points out five different galleries that have featured his work since 1978...
---
New for 2015
Port Boca Grande Lighthouse
Giclee Poster- Signed by the Artist
Paper size 24" x 17 1/2"
Image size: 21" x 15"
Available with BOCA GRANDE or without
$210

"We've been spending part of the winter on Gasparilla Island on the West Coast of Florida. I can't help but get inspired by a whole new architectural vernacular like the Florida Caribbean and Conch Style bungalows. But what really caught my attention is this wonderful lighthouse just down the street from our home in Boca Grande. Built in 1890 it served ships entering Charlotte Harbor, mostly transporting phosphate and cattle. Deactivated in 1969 it almost fell into the water from erosion but rock groins were built, sand pumped in, and in 1985 it was restored and the light recommissioned. It is now also a lovely little museum! In my poster I have is dressed up with bunting for the 4th of July."


Order this Poster
---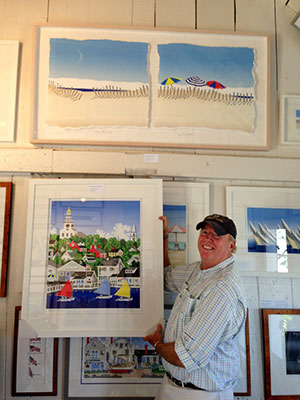 Article in The Inquirer and Mirror, Nantucket, Mass.
, Thursday, August 14, 2014. Photo by Nicole Harnishfeger.
Printmaker Holch inspired by island's timeless beauty
Artist Eric Holch has been coming to Nantucket since he was a child, constantly drawn back by the water, the boats, and how the island has seemingly stood still through time as the world around it evolves.
His gallery at 10 Old South Wharf features stylized snapshots of Nantucket in the summer, just as it has looked for decades: the view of town from the water, Brant Point Lighthouse, and the beach dotted with beach umbrellas. Holch has been creating original serigraph prints for 35 years, and has never run out of ideas, as the island serves as his inspiration.
"You just drive around the island, go to the beach, do whatever it is you do, and something just grabs you . . . something pops into view and you say 'Wow, that's cool'," Holch said.
Holch's prints are bold, with strong colors, crisp lines and new this year are some three-dimensional prints that make the image pop.
"I use a few prints to do it, I cut it out and put it on top of another print . . . the 3-D paintings are for people who want a one-of-a-kind piece of art. It's a fun project," Holch said.
One 3-D print features a boat in the harbor that comes to life layered over the water, followed by the buildings in the background, then the horizon layered underneath, adding depth to the piece.
He began printmaking as a boy in the mid-1970s, when there were a dozen other printmakers on the island. Now, he is one of the only artists who still uses the technique, giving his art a unique and recognizable style.
He decided to focus on art full-time after giving up his corporate job in advertising, but initially feared he would run out of ideas. "I sat in my mom's house . . . and spent the whole day sketching," Holch said. "Every time I was dry out of ideas I would go back to that sketchbook," as he still does to this day.
The art of printmaking is a very technical process that uses special oil-based paints and fade-resistant inks. Using hand-cut-stencil techniques, an image requires a different fill for each color used. Due to the precision and time required, one large print can take up to four months to finish, Holch said.
Once a print is cut there is no blending, adding or changing. Where a mistake in an oil painting can be smudged and altered, all printmaking work is clean-cut and permanent.
Most of Holch's work is done in the winter, after he's had time to reflect on the photographs he took during the summer and his gallery is closed for the season except by appointment only.
Though most of Holch's prints are of contemporary Nantucket, the way it looks to him as he wanders around the island, he also pays homage to its history. One print is of a whale's tail poised above the water's surface, with the word "Nantucket" splashed across the top of the print in white lettering.
"I wanted to do something with a historic feel that brought people back to the essence of what Nantucket used to be all about," he said. A couple prints hanging in Holch's gallery this week showed traditional scenes of sailors, first in a whaling boat seeking their prey, then about to harpoon the animal like a scene from Herman Melville's "Moby-Dick."
A sailor himself, Holch also created the Nantucket Race Week logo, a scene of colorful sailboats racing to the finish line. Holch has sailed previously in the Opera House Cup, and enjoys spending time aboard his boat.
Also new this year is a vertical painting of freshwater lures, inspired by the print he created last year featuring saltwater plugs. He came up with the idea while putting away his own plugs after a fishing trip.
Holch only makes a few new prints each year, and keeps printing the classics as well. As for his distinct style: "I couldn't change if I wanted to," he said.
---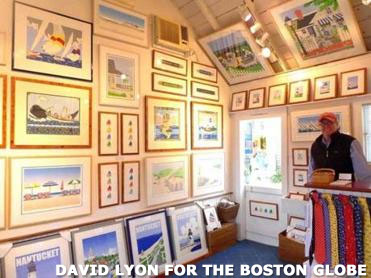 Article in The Boston Globe June 22, 2013 Travel Section by By Patricia Harris and David Lyon
Touring the galleries of Nantucket
The wharf is a place "where artists can get a toe in the door," says printmaker Eric Holch, dean of the Old South Wharf art scene. "I've been on the wharf since 1978," he says, noting that he opened his first gallery in "the last shucking shack to turn into a retail space." Holch began making limited edition silkscreen prints in 1976 and is a master of the art form. The clean shapes and clear colors capture the stillness of the wharves at dawn or the adrenaline rush of boats under sail with equal verve.
---
New for 2014
Freshwater Lures
Paper dimensions: 15" x 5"
Image dimension 12" x 3"
$100

"Last year's 'Saltwater Plugs' print was such a hit that I thought a companion piece would be fun. Starting off at the top with Daredevle® lure, a favorite of mine when I was a kid."
---
In The Shade
Giclee Poster- Signed by the Artist
Paper size 24" x 17 1/2"
Image size: 21" x 15"
$210

"I am continually drawn to creating new posters. My first introduction to silkscreening was seeing Bobby Bushong's posters in the Nantucket Looms in the early '70's. His poster "Fall" is what got me started as a printmaker! Silkscreens just lend themselves to posters."
---
New Video from Geno TV
---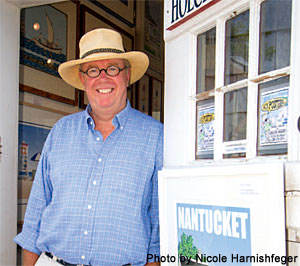 From July 12, 2012 article in the 'Inquirer & Mirror' -by Leland Rzepecki
Printmaker Eric Holch's work synonymous with summertime
Eric Holch, a Nantucket artist whose work has almost become synonymous with summertime on the island, makes his living by awakening the beauty within people's memories. Holch, inspired by his own memories of Nantucket, has been making fine, detailed prints of island scenes, which have adorned collections of Nantucket-related art worldwide for over 30 years.
Holch's passion for printmaking started at the age of 15 when he was given a print as a gift. He was struck by its sharp, distinctive look and although his early professional life eventually revolved around advertising, he would always retain his interest in art.
---
New for 2013
SALTWATER PLUGS
Paper dimensions: 15" x 5"
Image dimension 12" x 3"
$100

"I was putting away my saltwater fishing gear in the fall and was struck by all the fun shapes and colors. I immediately thought a new print would be a terrific addition to the series of small, vertical prints I have been selling in the gallery. (Rainbows, Storm Flags, Beaufort Scale, Whales, etc.) Perfect piece for any fishermen!"
---
The Chase
Giclee Poster- Signed by the Artist
Paper size 24" x 17 1/2"
Image size: 21" x 15"
$210

"I wanted to do a new poster that depicted Nantucket's historic significance. Something iconic. It didn't take long to realize that "The Chase" captured the Nantucket whaler at work and at sea."
---
New for 2012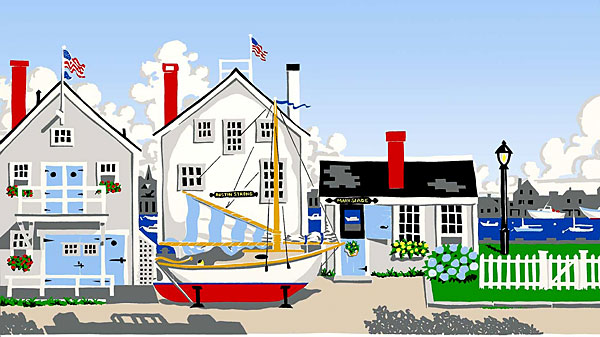 Wharf Cottages II
Ltd. Edition of 150 Signed & Numbered
Paper dimension: 24" x 15"
Image Dimension: 11-1/2 x 21"
$450
"Many years ago I did a very narrow, horizontal print entitled 'Wharf Cottages' which featured about nine of Old North Wharf's fun little shacks and cottages. 'Wharf Cottages II' is a larger detail of just the first three cottages; Essex House, Austin Strong and Mary Slade. The larger size really captures the fun and beauty of this special place"

---
New Art Posters for 2012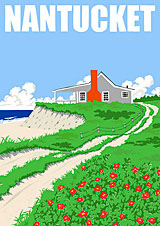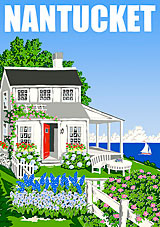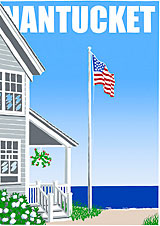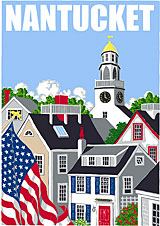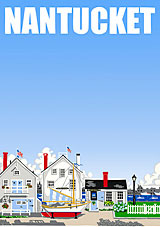 "Maybe it's the economy, maybe I just like posters. For 2012 we have 5 new posters using details from older prints so there are now have 15 different images. These posters are a great 'art value' since they have the same archival quality as prints, but are signed and titled open editions, and sell for $210! Click on POSTERS to see them all"


---
New Wooden Jigsaw Puzzles for 2012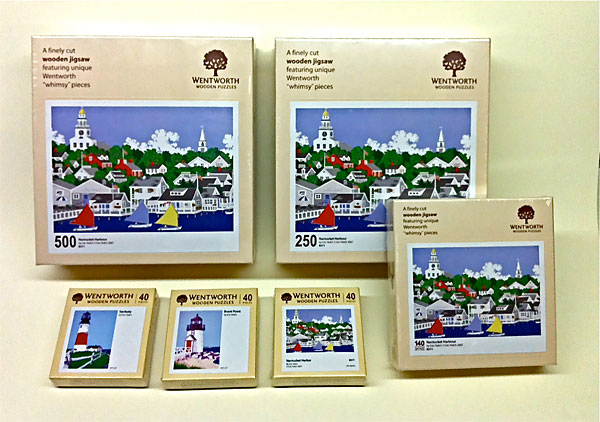 "New for 2012 are Wentworth (UK) wooden puzzles in 500, 250, 140 and 40 pieces! So whether you want 30 minute challenge, or a weekend challenge, we have something for you! Order directly by phone from the Gallery at 508-228-7654. Quantities are limited so do your Christmas Shopping now!"
500 pieces - $160 "Nantucket Harbor"
250 pieces - $75 "Nantucket Harbor"
140 pieces - $40 "Nantucket Harbor"
40 pieces - $20 "Nantucket Harbor", "Sankaty", "Brant Point"

---
From August 2011 article in the 'Inquirer & Mirror' -
by Hana Schuster, I & M Contributing Writer
The Hidden Treasures of Old South Wharf
One of Old South Wharf's longest running galleries, Eric Holch's Holch Gallery, offers customers a unique twist on Nantucket-themed art, thanks to the artist's unique limited-edition silk-screen prints, posters and his signature line of nautically-inspired silk neckties.
Since 1976, when Holch began exhibiting his work at the Main Street Gallery, his prints and oil paintings have been exhibited in over 250 galleries and museums throughout the United States, Bermuda, England, Australia and Japan. His distinctive images have also appeared on everything from magazine covers and cards to ceramics, jigsaw puzzles and boxer shorts.
---
New for 2011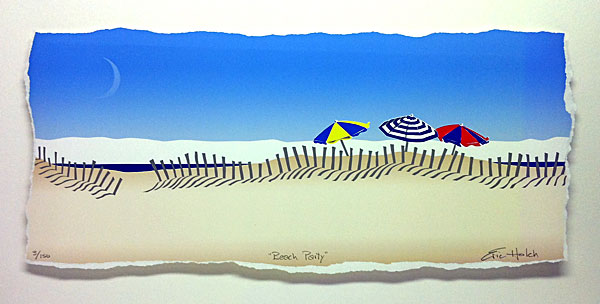 Beach Party
Ltd. Edition of 150 Signed & Numbered
Torn Paper Dimensions:
approx: 10"x 24" $450
Available framed (17'x 30") for $670

"For about 10 years I have been doing torn paper deconstructions (tearing apart sections of reject prints and reassembling them into different, unique pieces) and I wanted to do a limited edition with torn edges. The crispness of the hard edge imagery in "Beach Party" juxtaposed with the random, torn edge gives the print a really compelling look."


- Purchase this print
---
Siren Song


Ltd. Edition of 150 Signed & Numbered

Paper dimensions: 21"x 21"

Image Dimension: 18"x 18"

$495 -

Purchase this Print

Salty Dogs


Ltd. Edition of 150 Signed & Numbered

Paper dimensions: 21"x 21"

Image Dimension: 18"x 18"

$495 -

Purchase this Print
"Sketches for these two prints have been on my drawing table for years and I finally got to them. They are a throwback to my whaling prints done in a folkart style similar to some ivory scrimshaw I did many years ago. Something different from my usual imagery."


---
Closehauled
Giclee poster
Signed by the Artist - $210
Paper Size 24" x 17 1/2"
Image size: 21" x 15"
"Thinking about Nantucket Race Week, it just seemed to me that "closehauled" would make a fun poster for 2011. Three 12 Metres beating to windward, closehauled."

---
Brant Point

Harbor

Sankaty

Steps Beach

POSTERS

By popular demand, Holch now has 4 posters available both with and without NANTUCKET on them. Same price, $210 plus S/H. Go to the Posters Page for dimension details and ordering.
---
New for 2010
New Silk Ties for Fall and Christmas .... $40
New ties that just came out for the fall and winter season.
Perfect for Christmas presents or that cocktail party in Florida!


Click on NECKWEAR PAGE to see all Holch's ties.
---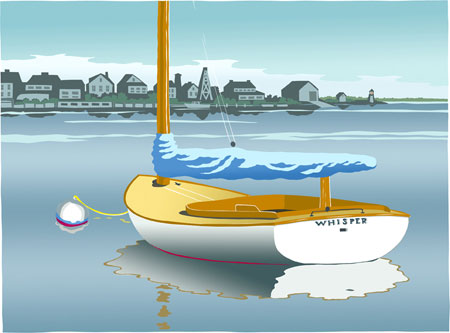 Reflections
Ltd. Edition of 150 Signed & Numbered
Paper dimensions: 20" x 24"
Image dimensions: 15" x 20"
$495

"Leaving the island on the 6:30 am ferry, I caught a lone Beetlecat quietly resting on its mooring. The boats name aptly captured the moment that fall morning and I thought it would make an unusual image."


---
Grey Lady
Ltd. Edition of 185 Signed & Numbered
Paper dimensions: 9" x 22"
Image dimensions: 6" x 19"
$180 - Purchase this Print
---
Sankaty
Giclee poster
Signed by the Artist - $210
Paper Size 24" x 17 1/2"
Image size: 21" x 15"
"Since the limited edition print 'Sankaty Head Light' is just about sold out, I thought a poster version of it would be fun since it is such a great, iconic Nantucket image. (Also available with SCONSET on the top for our 'Sconset friends! Call me.) "

---
Beach Break - Boca Grande
Giclee poster
Signed by the Artist
$210
Paper Size 24" x 17 1/2"
Image size: 21" x 15"
Available without Boca Grande text
"Trying to dodge Nantucket's cold and windy winter, I found myself sitting on the beach
on Gasparilla Island. I fell in love with the soft pastels of the gulf water and beach umbrellas."